Tom & Tom in Koh Rong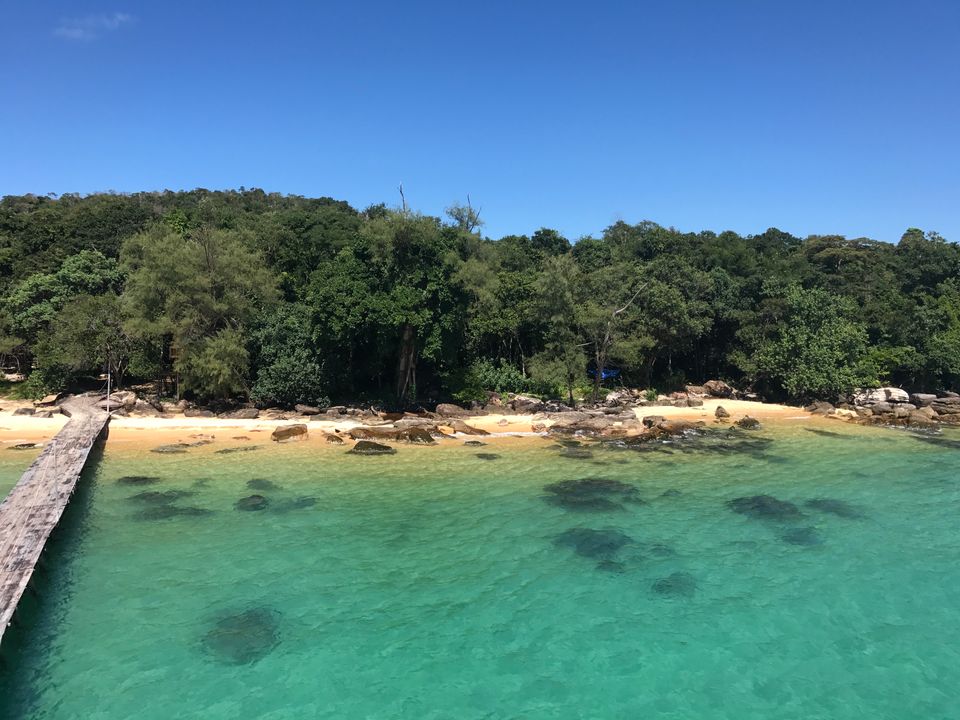 📋🏃🏽 written on the move, typos and all
---
I just got back from Koh Rong – an island off of the south west coast of Cambodia - and I'm en route to Phnom Penh, the capital of Cambodia.
It's comical how far some of the coach drivers stretch the definition of a direct journey.
About 4 hours in and we've been picking up and dropping off random people at random places. Clearly the driver is sticking some $$ in his arse pocket and taking us all on a detour.
An Italian guy just shouted his head off about it, saying he will report the driver to his office. The driver looks scared and apologetic.
If it wasn't for needing to piss like a race horse, I would've been fine with the detour. Lots of happy Cambodians waving frantically, living in the most remote conditions.
On reflection Koh Rong was beautiful. I arrived there late afternoon on Thursday. As soon as I got off of the boat, I hung a right and walked along the beach and then into the jungle for about 3km until i had my own patch of beach --  then I pitched up my hammock for the night.
The sun makes for a good alarm clock and on my first morning I caught sunrise. Favourite time of day by far.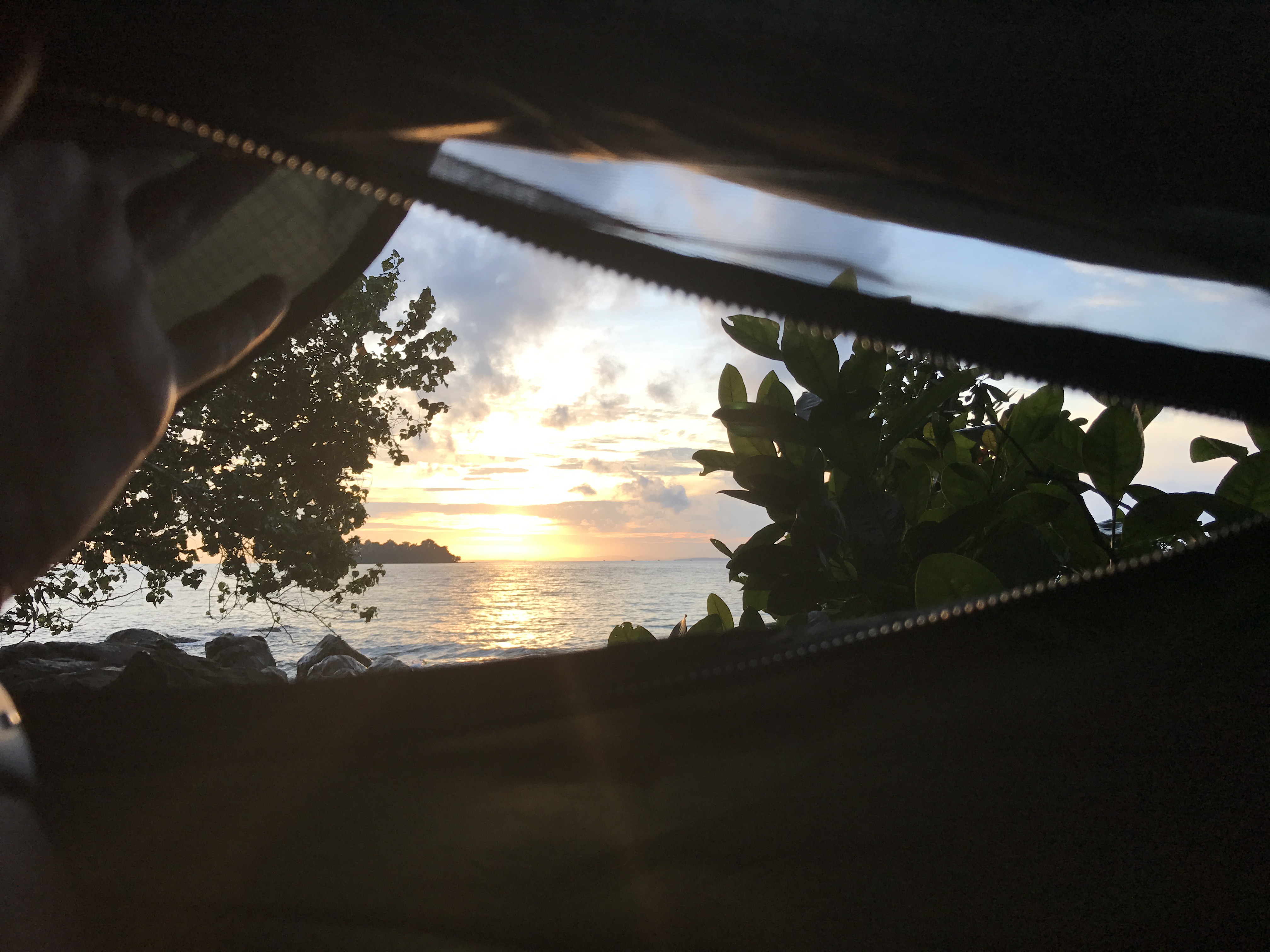 When I jumped out of my cocoon, I noticed there was another hammock next to mine which was a bit odd — I was in quite a remote area and a fair way into the jungle.
A few hours later and The dude from the other hammock woke up --turns out his name was Tom too. Tom 2.0.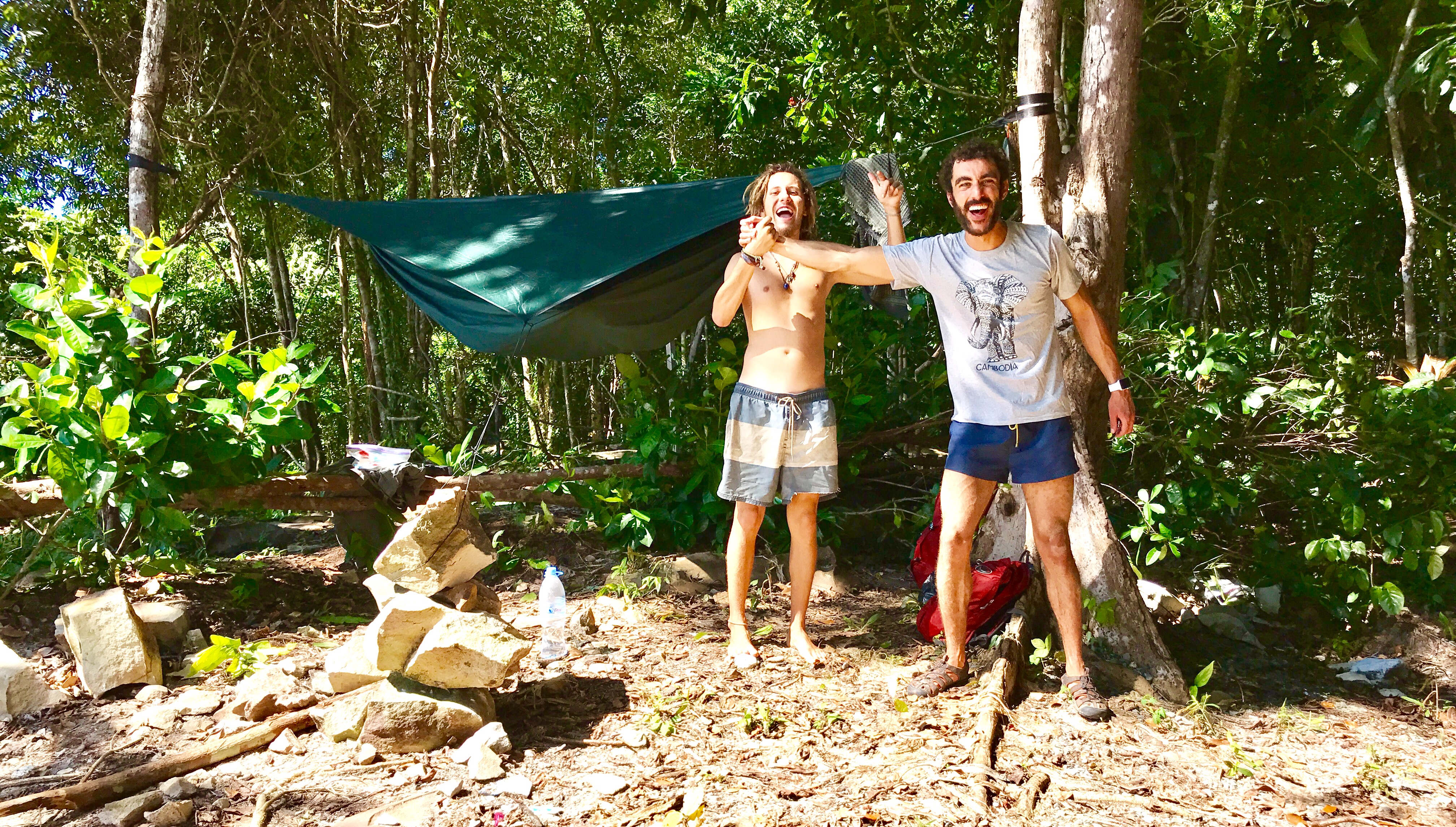 Tom 2.0 was from Munich (Germany), had dreadlocks and was a fair bit cooler than Tom 1.0.
We compared hammocks. Tom showed me how to do a simpler fly knot. I showed him how to tie and adjustable lasso knot for his canopy. There was a bit of a language barrier but the knots went right over it.
We saw a huge platform that the local people used for fishing.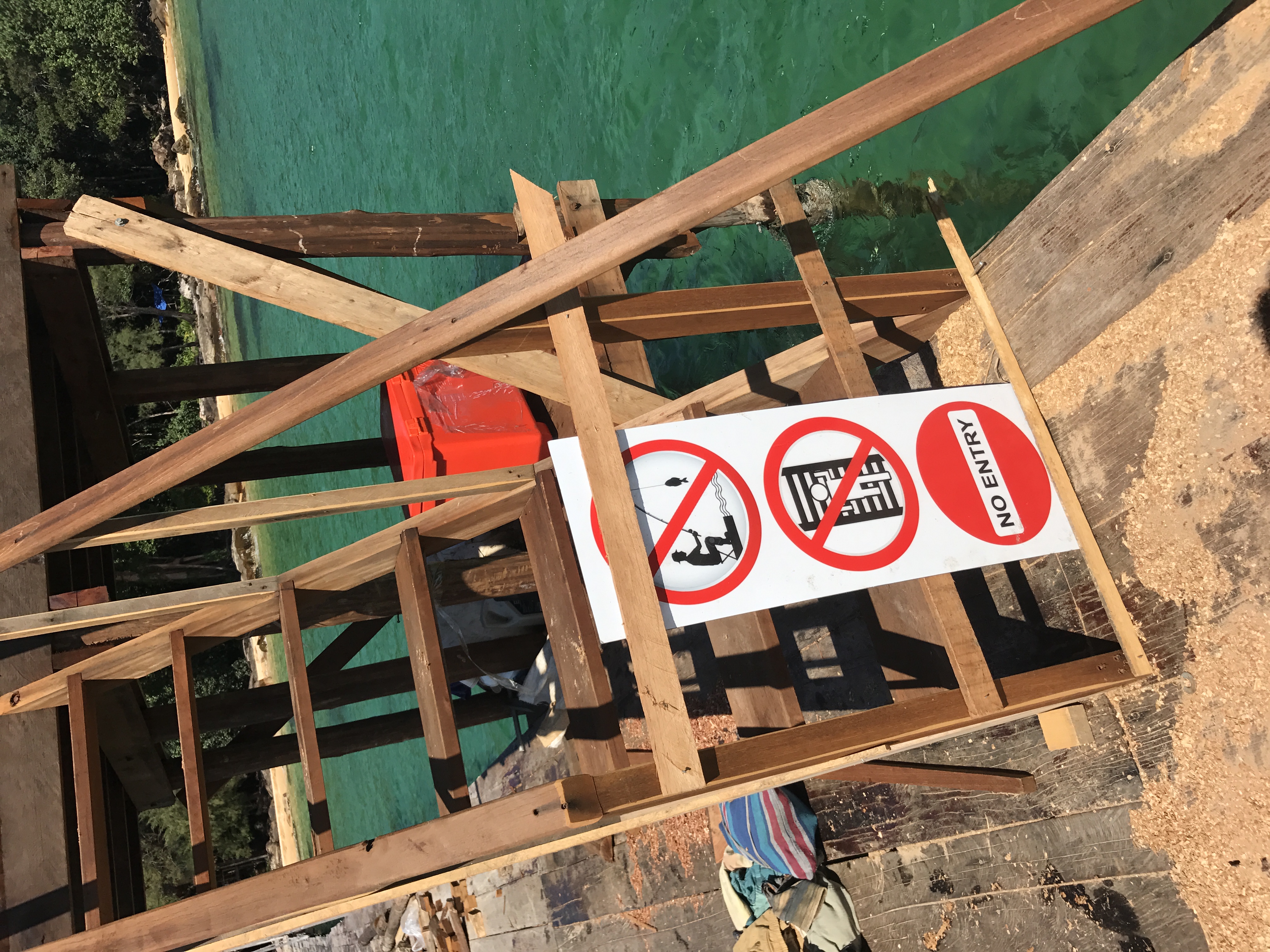 Being stupid enough to sleep in a jungle with 16 different poisonous snakes (some venoms can end your life within hours) naturally we ignored the danger and no entry signs and decided to dive off of it.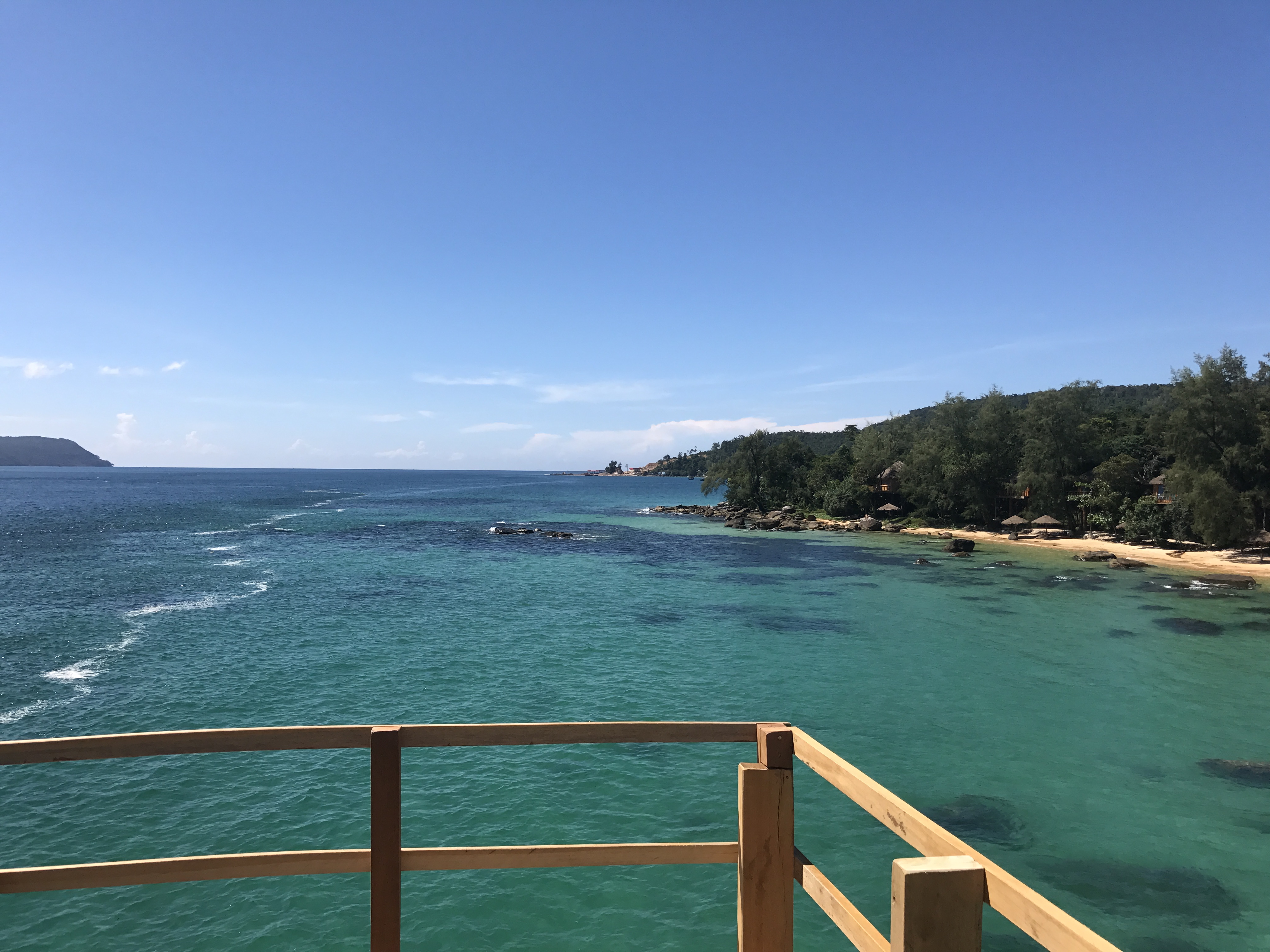 The view from the top.
After we were bruised and sore from two jumps off of the platform, Tom 2.0 showed me the best place to get breakfast and the best place to buy mangos. Probably the best mangos I've ever had.
Tom 2.0 forgot his wallet so I said I would buy his breakfast for him. He started to walk back the whole 3km to get it, I insisted I would pay and carried him in the opposite direction . We had breakfast and spoke about travel plans and what we did for a living. We shared a mutual disappointment for the lack of decent techno music in south east Asia.
After breakfast, I left Tom to go on a jungle trek to a paradise called Long Beach. Most people take a taxi boat, but I fancied the trek.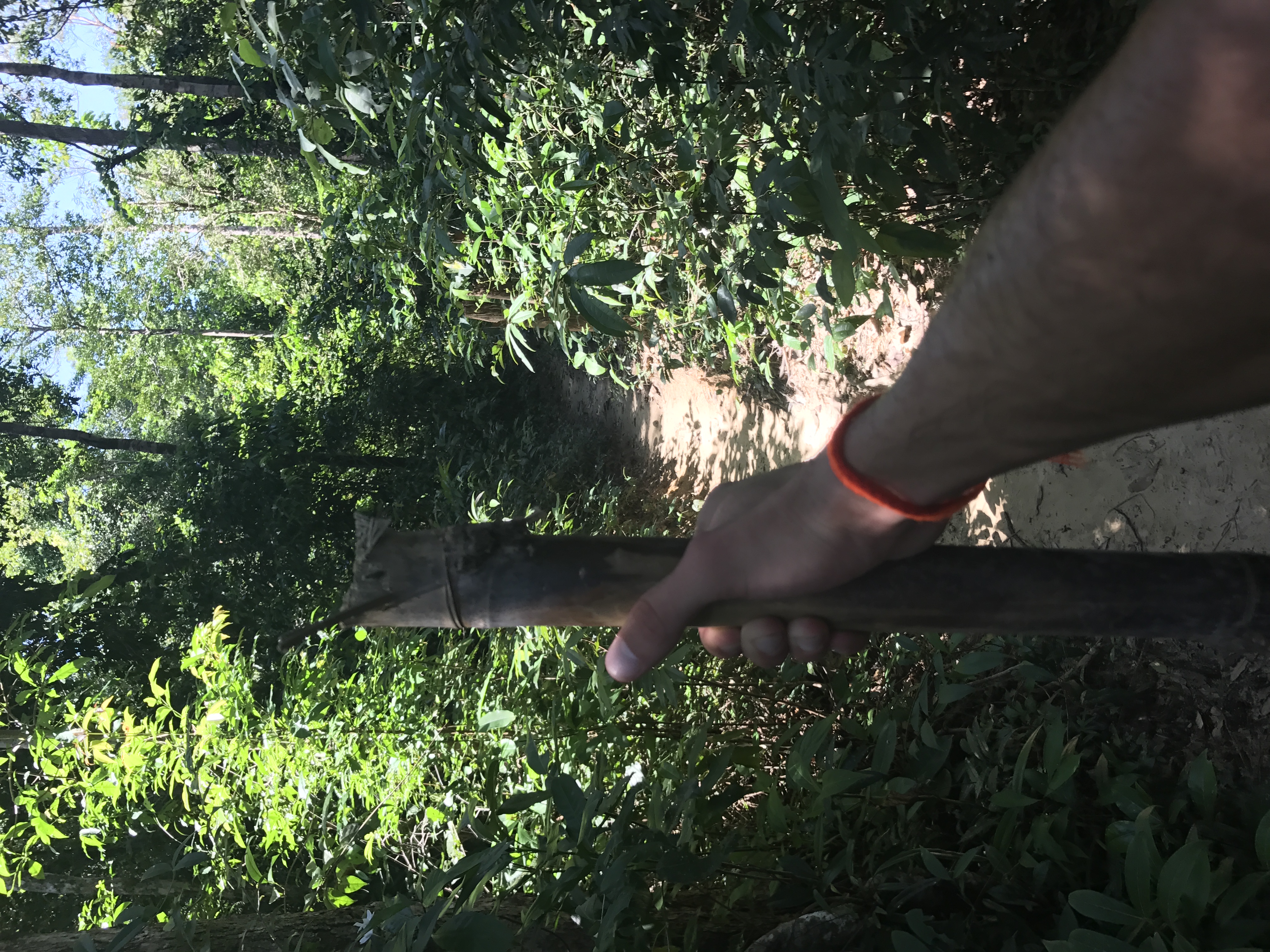 Narrowly avoided being attacked by a bunch of dogs. I love dogs but these were angry ass fook dogs showing their teeth and their owner was no where to be seen. Lucky I had my trusty stick and remembered to be firm and confident with them (sage advice dad).
I remembered that snakes aren't usually confrontational , so I played music on my phone sothat they'd hear me coming and move off of the track.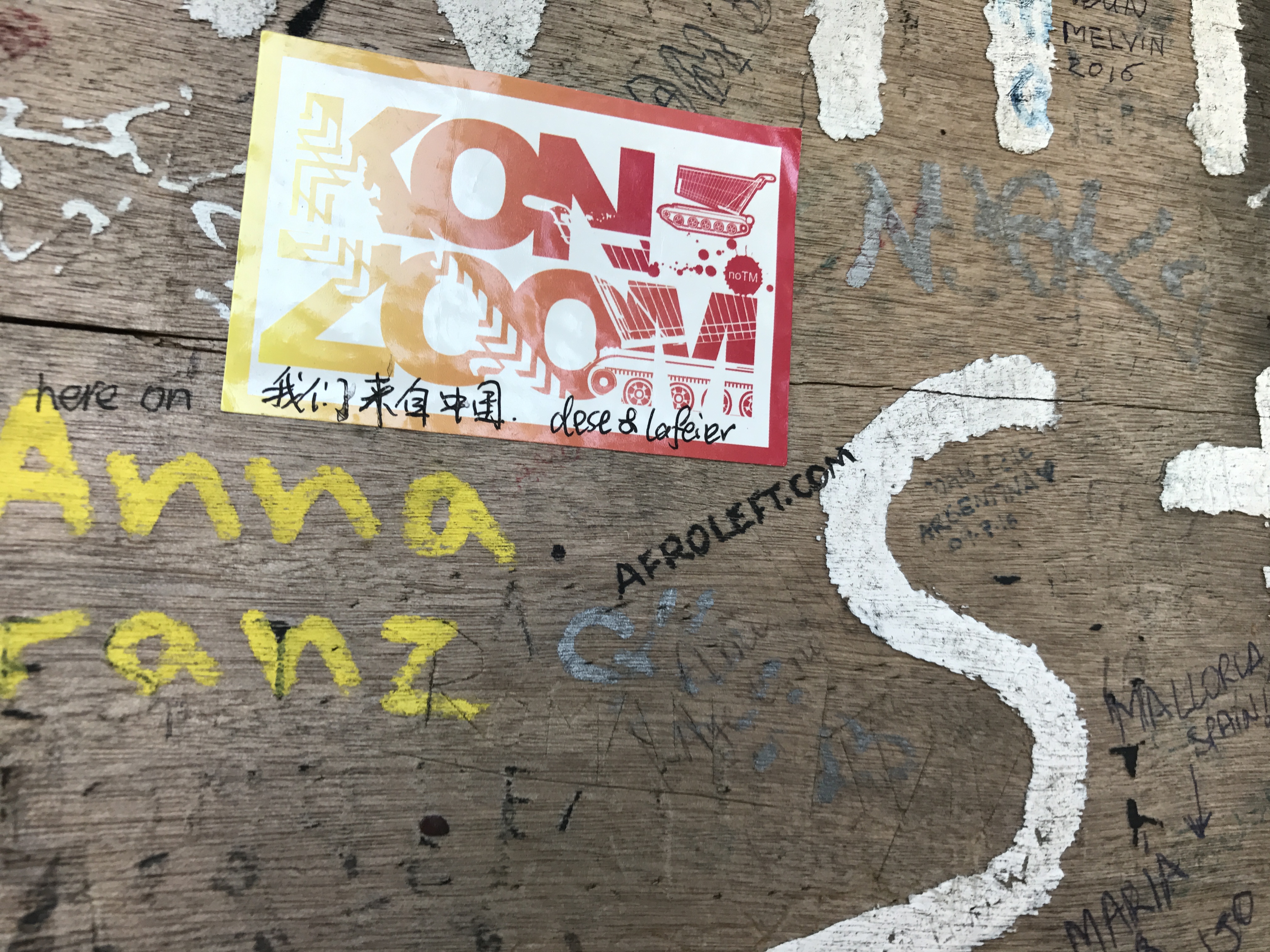 Left my mark on this sign. Just before the rock climbing down the cliff face started.
After about 2 hours trekking I reached a rocky cliff that you have to climb down.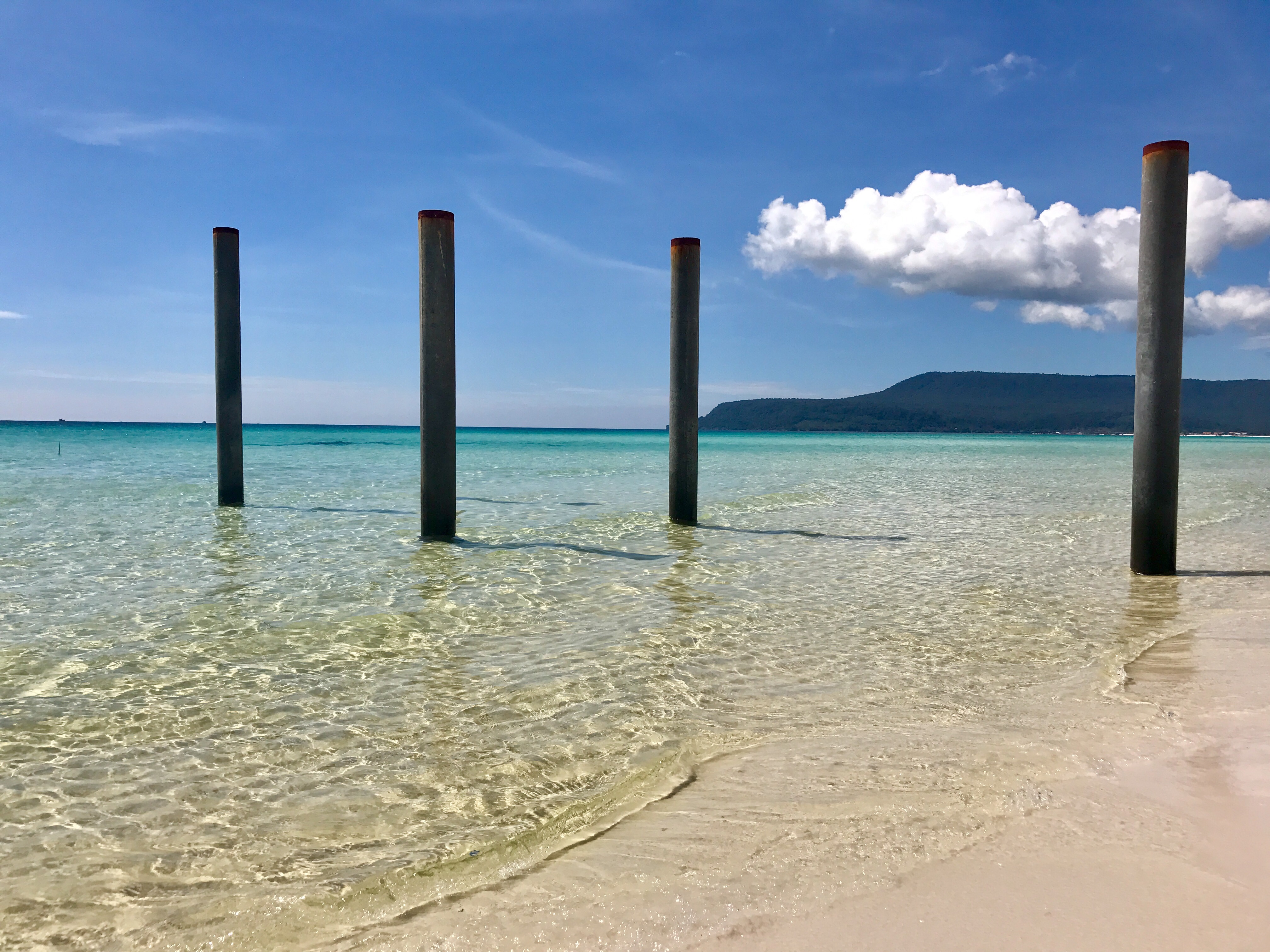 At the bottom jt was paradise. A beach with white sand and crystal blue water that stretched as far as you can see. Hardly anyone was there. Felt like I had the place to myself.
I walked in the blazzing heat for about an hour and a half-- only stopping for a mango and glugs of water .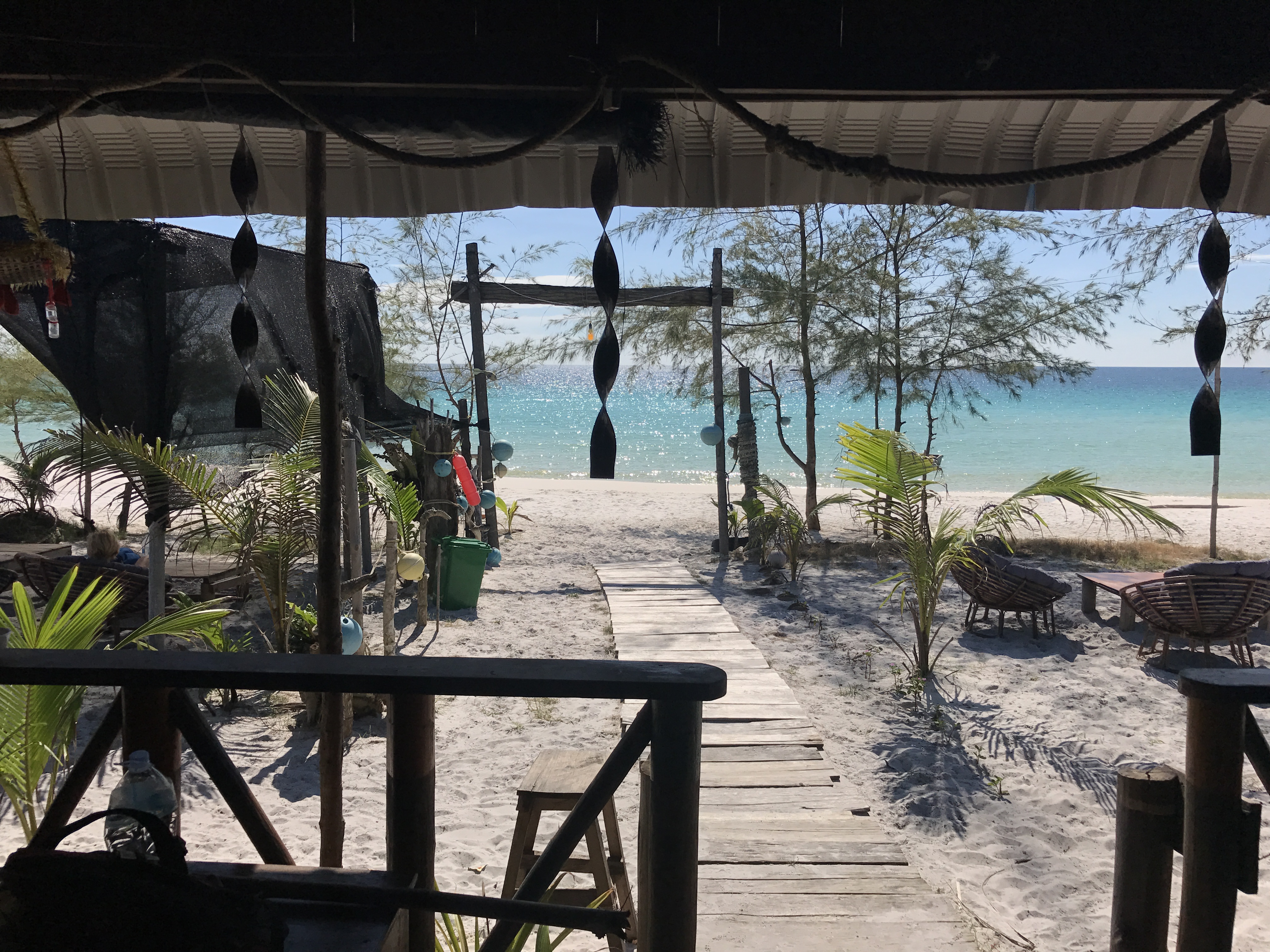 Eventually I found a little beach bar. Had the most amazing banana shake and bumped into two lively girls from Melbourne.
Aussie girls like doing this at sunset.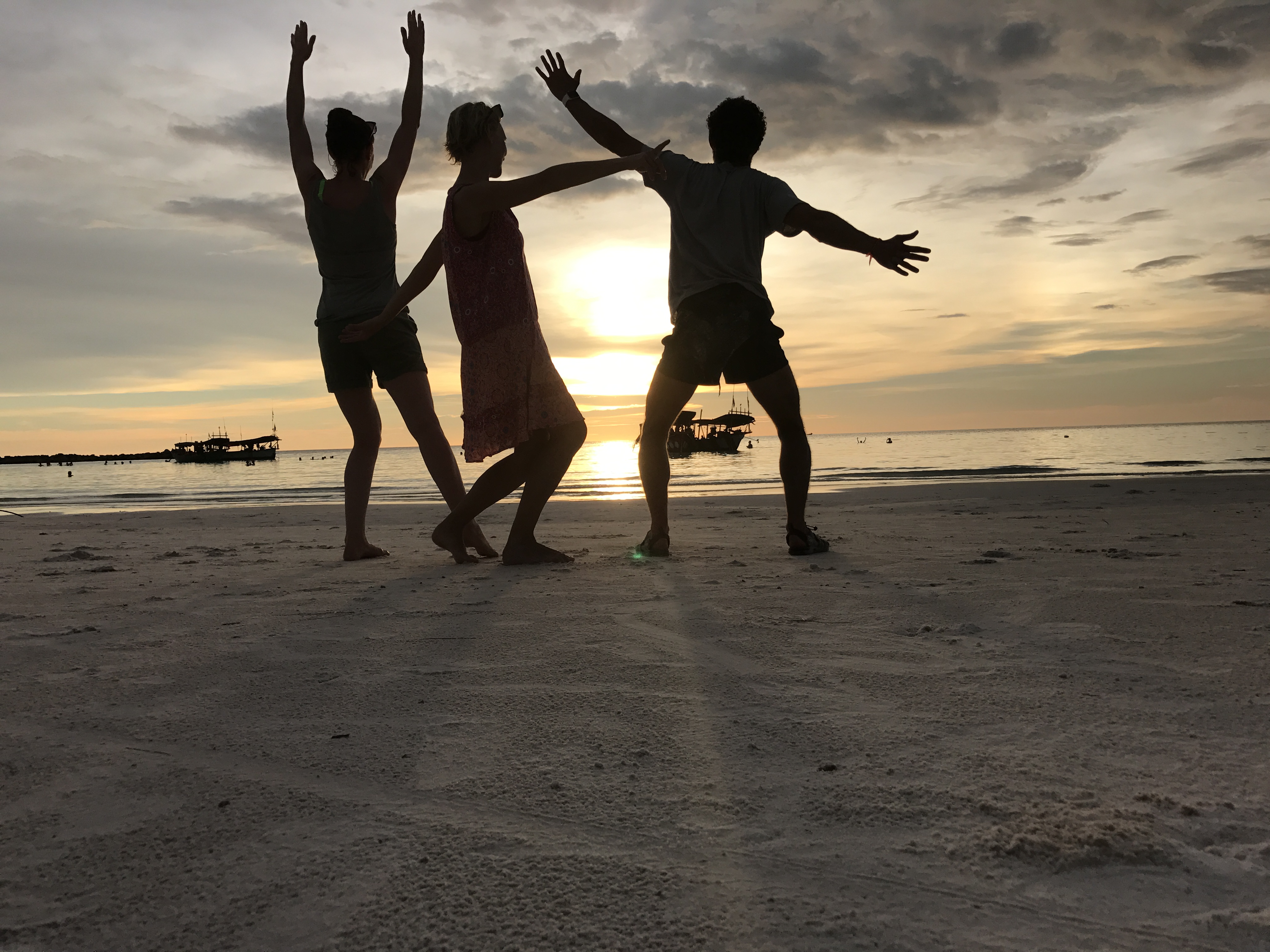 We negotiated hard and managed to get a taxi boat back after sunrise for $2.
Nearly dropped my phone in the water for this photo.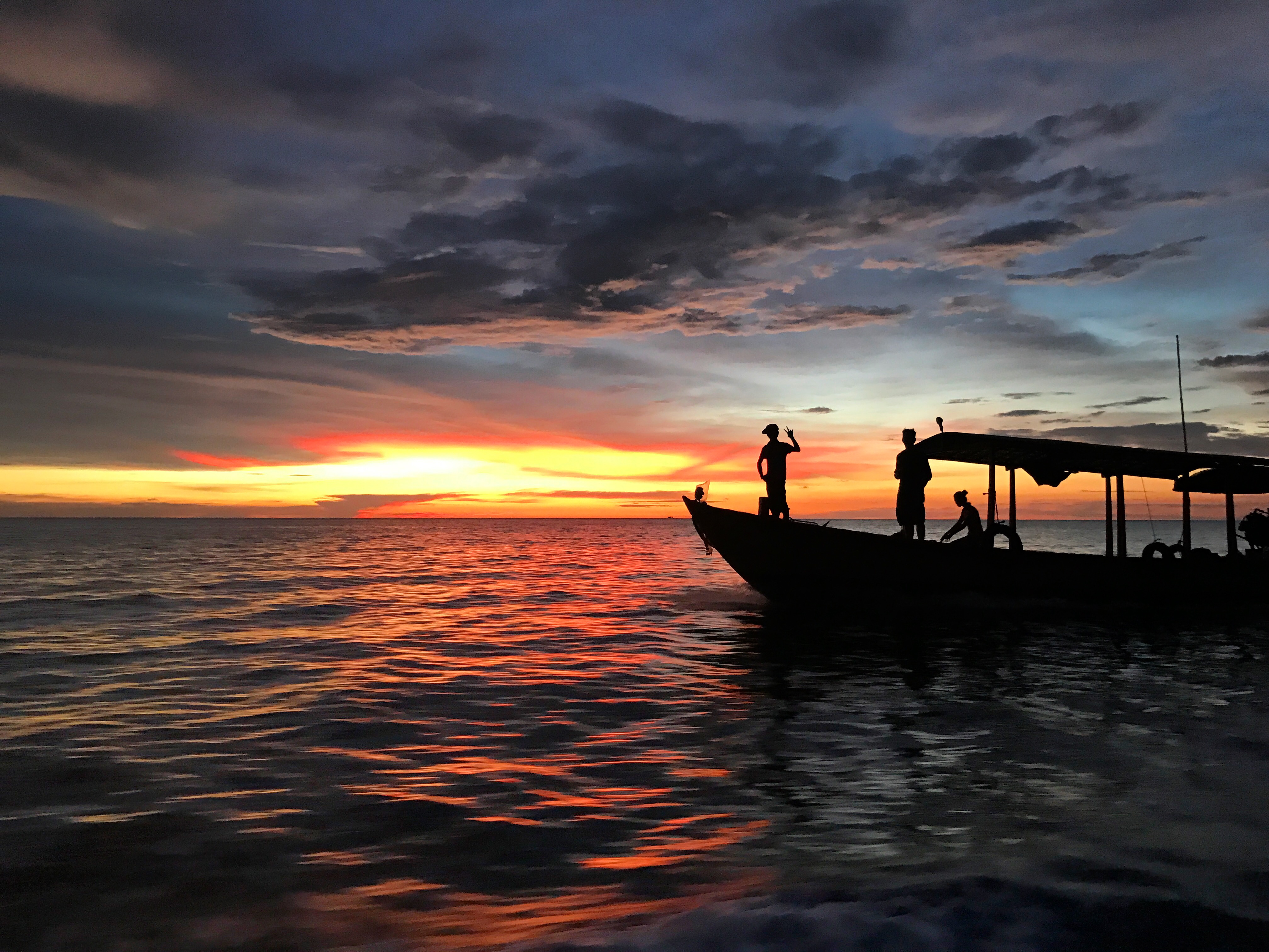 When I got back to my hammock there was a $5 note tucked on the main fly line.
Must've been Tom 2.0, who had moved on to the other side of the island #travelling